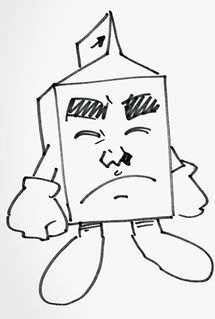 Well.
i'm sure we've all heard of the saying
"milk does the body good"
To be blunt about the situation, i disagree.
I have a small bust.
Friends && some fam told me to try drinking milk.
Said that it & arm exercise would help promote growth.

Now im not saying i was expecting to just

miraculously

jump sizes or nothing like that.


But uuuugggggggggggggggggghhhhhh.
the opposite of what i wanted happend........

it seems i'm getting thicker.
My waist,
my tummy,
my hips,
everything

besides my breasts

are growing.
Now it is absoultely nothing wrong about being thick
But im only 5'1 and me gaining weight is easily noticed.
sooooooooooooo..............
I'm still a proud member of the ittybittytittycommittee.
&& guess it's back to juice && soda fah lil ole me.
****disappointment