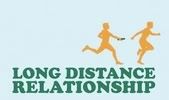 Ok.
Me && my boyfriend are going

ROUND 2

in this relationship thing.
Round 1 didn't work out (apparently) because we weren't seeing each other that much
&& bcuz of sum other bullshiit

.
But for sum odd reason i believe we may last longer this time
(longer than the previous 5 mths)
&& because im in school
I don't get to see him

other than the weekends
...and

that's if my transportation right

.
&& it's kinda bothering me...
is this a
dumb
reason to doubt the realtionship?
&& what cud i do to help us through the 5 weekdays we're not together....
i love my baby
and i don't want things to end like they did last time.
He tells me that it won't
But im still the introvert that wants to know what can i do to make ten times better....
i stay in my head with what if's.
im not worried or insecure about us.
i just dont' want it to get dull.
A lil' advice
...
por favor
?????