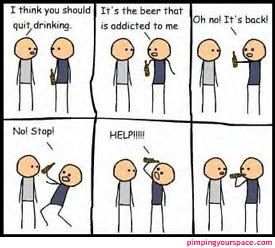 Darn it, im back to an old
bad habit
again.
Sry to New Year Resolution (#2)
"No more drinking"
At least i lasted
24
whole good days.
I don't know why it's so difficult. smh
totally not a laughing matter
something im not proud of && definitely
NOT A
GOOD
THING.
I dont drink beer or anything && to make it worst i only like hard straight liquor.
SO this got me thinking of my other bad habits that have come to the light recently
&& just because i love u
sooo
much.
i thought id share.
Bad habits of briit
1) Continuing to talk to ex boys that should have never been forgiving
2) Drinking
3) Wanting something new everyday
4) Having to have a bowl of cerel every day
5) Not liking the high at the moment, but pulling anyway
6) Agreeing to talk to someone even though i know i dont like them just to be polite.
7) Being rude
8) Not liking (getting along) with my father or mother
9) Fucking with my hair
10) Trying to please the people in my family when they simply dont care
11) YouTube
12) Cursing
13) Thinking about sex (not a everyday thing..that's why it's at the bottom of the list)
14) Recently: thinking about this old friend i use to have named kellen
15) Not doing school work
16) Not being 100% confident with me unless im in a new outfit and my hair is done (kinda at a 89 today)
17) MySpace (which im growing to hate)
18) Misssing no good niggas
19) semi depression
20) && having nothing to do with my time
Some of them aren't

too

bad. I'm still staying loyal to my New Year Resolution (#1): 6mth Celibacy. So i think that's better. but im still kinda:
[[sighing]] at how long the list is.
[[smh]] that i just now realized it
[[trying]] to do better
Sadness comes over me as i think about an older post i wrote about a month ago. (<-click link if u care to read) && i can really tell things are changing alot. I
i guess things can only go up from here.
Me && God got some work to do. Hope he's not too disappointed. I'm trying to do the best i can. Just need a little bit of help.

{{to my christian readers...say a special prayer for me}}
Sorry so long[&& so colorful]
gudnite
&& love, Briit